3 Easy Ways to Make 2022 the Best Year Ever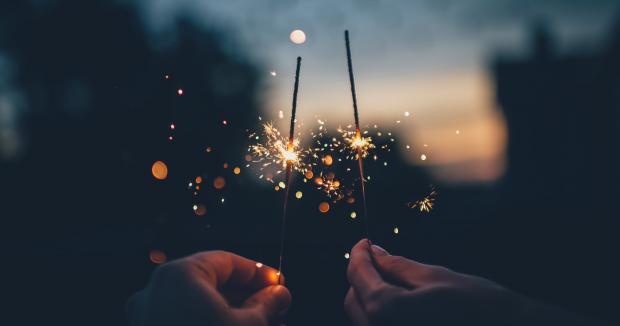 Kiss 2021 goodbye and kick off 2022 with a bang!
Whether or not you're into resolutions, the new year is a great time to reflect on what you want. Health, wealth, love, amazing sex…If you set your mind to something, we know you can achieve it. Here are four ways to make this year the best. For real.
1. Take your sex life to the next level.
Birth control: Even if you're not having sex right now, it's good to have birth control covered—because you never know what, or who, the new year might bring your way. If you don't have a birth control method, or aren't loving the method you're currently using, now is a perfect time make an appointment with a provider at your nearest The Right Time health center to explore your options.
Communication: Communication is key to a healthy sex life. You should never be ashamed to talk openly with your partner, health care provider, or other VIPs in your life about sexual health. Great communication can even heat things up in the bedroom. Talking with your partner about the things that turn you on—and the things that don't—will keep you both safe and satisfied.
STIs: STIs are really common. And contrary to popular myth, you usually can't tell if you or your partner have one since the most common STI symptom is no symptoms at all. So whether or not you're in a relationship, make sure you're on intimate terms with STI testing and condoms.
2. Work. Play. Get s*%# done.
Whether it's impressing your bosses or teachers or taking on a new hobby in your spare time, setting goals and achieving them feels great. To start, make a list of things you want to excel at this year (this can be personal projects, such as learning to play an instrument, or professional projects, such as getting better at tracking deadlines). Under each one, write out three steps you're going to take that will help you achieve each goal. For example, if you want to do better with deadlines at work, you might try using a digital calendar to track when everything is due, setting aside a little time each day to work on each deliverable, and making sure you ask for support if you need it. Listing your steps out like this will empower you and help you put a plan in place for success.
3. Focus on relationships.
Figure out what kind of relationships are most important to you this year and devote some energy to making them (even more) awesome. Whether you're getting serious with someone special, focusing on friends or family, or dating and keeping things light, connecting with others feels great and keeps you healthy.
Your relationship with yourself is important too, so think about what makes you happy and bring more of those things into your life. Destress, eat delicious things, get stronger, and seek inspiration. This next one's gonna be a good one.
Updated November 2021