Back To Methods
Condom
: Basic Info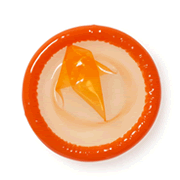 Rubber. Jimmy-hat. Love sock. Wrapper. However you say it, condoms are one of the most popular forms of birth control out there. They slip over the penis to prevent pregnancy and lower the risk of sexually transmitted infections (STIs) by keeping sperm inside the condom and out of the vagina. (There are also internal condoms that go inside the vagina.) Condoms come in hundreds of shapes and sizes, with lube and without.
The Right Time health centers stock all methods of contraception and offer free or low-cost contraception to those who need it.  
Different Types
Spermicide-free

Women and men who are sensitive to spermicide can use spermicide-free condoms. Condoms have very few side effects. This type has even less.

Latex

Elastic fantastic latex can stretch up to 800%. These are the most common condoms. But don't use them with oil-based lube. They can break or slip off if you do.

Non-latex

Allergic to latex? Prefer oil-based lube? Then these are for you. Usually made from polyurethane, other synthetic high tech materials, or natural lambskin.

Spermicide

These condoms are lubricated with a chemical that kills sperm. Ok for vaginal intercourse, but not recommended for oral or anal sex.
Details
STI protection!
The best thing about (most types) of condoms is that they help protect you against STIs, including HIV. Lambskin condoms, however, are the one type you should not rely on for STI protection—they are able to block sperm, but not infections.
Condoms take effort and commitment
You have to make sure to use condoms correctly, every time, no matter what, in order for them to be effective.
May help sex last longer
Condoms can decrease sensitivity, and in some cases, that's a good thing. (Example: if you or your partner has trouble with premature ejaculation). They may help sex last longer.
Cheap and easy to find
Condoms are inexpensive (and sometimes even free from clinics and bars). You can find them just about everywhere, from truck stops to supermarkets, and even online. Plus, there are so many different kinds to choose from!
No prescription necessary
If you can't make it to the doctor (or don't want to), you can always use a condom.
Not so good if you're allergic to latex
If you're allergic to latex, you'll need to use a non-latex condom, or try another method.
Don't take our word for it. Check out the videos above to hear people talk about their experiences with condoms.