Back To Methods
The Patch
: Basic Info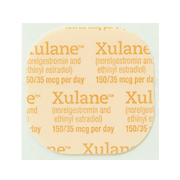 The patch is a thin, beige piece of plastic that looks like a square Band-Aid. It's a little less than two inches across, and comes in one—and only one—color. (Beige.) You stick the patch on your skin and it gives off hormones that prevent your ovaries from releasing eggs. The hormones also thicken your cervical mucus, which helps to block sperm from getting to the egg in the first place. 
The Right Time health centers stock all methods of contraception and offer free or low-cost contraception to those who need it. 
Details
Less effort than the pill
If you're the kind of person who would have trouble remembering to take a pill every day, the patch might be a good option. You only need to remember to do something once a week.
You weigh less than 198 pounds
We don't know for sure, but the patch may be less effective if you weigh more than 198 pounds. (Random number, right?) So take that into consideration.
You want predictable periods
If you feel comforted by getting your period every month—and not having random spotting in between—this could be a good choice for you.
Smokers over 35, beware
If you're over 35, smoking on the patch increases your risk of certain side effects. And if you're younger, why not quit now and save yourself the trouble in the future?
The pregnancy question
You'll be able to get pregnant right after going off the patch. So don't take any chances. If you're not ready for a baby, protect yourself with another method.
Don't take our word for it. Check out the videos above to hear people talk about their experiences with the patch. And be sure to ask your health care provider which method is best for you.