Back To Methods
Diaphragm
: Basic Info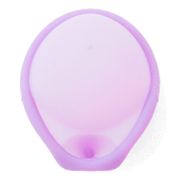 A diaphragm is a shallow, dome-shaped cup made of silicone. You insert the diaphragm into your vagina. Then it covers your cervix and keeps sperm out of your uterus. One super important thing to remember: For a diaphragm to work effectively, you need to use it with spermicide.
The Right Time health centers stock all methods of contraception and offer free or low-cost contraception to those who need it.  
Details
You're comfortable with your body
If you're not okay with putting your fingers inside yourself, a diaphragm probably isn't for you. It's a little like putting in a tampon, though: If you can do that, you can probably manage a diaphragm.
It takes discipline
You've got to remember to insert your diaphragm every time you have sex, so it takes a bit of self-discipline and planning. But at least you can carry it with you if you want.
Availability
There are two kinds of diaphragm, Caya (a.k.a. SILCS) and Milex, currently available on the U.S. market. 
Allergy issues
If you're allergic to silicone or spermicide, you shouldn't use a diaphragm.
The pregnancy question
You'll be able to get pregnant as soon as you stop using the diaphragm. So protect yourself with another method right away.
Don't take our word for it. Check out the videos above to hear people talk about their experiences with the diaphragm.