Back To Methods
Implant (Nexplanon)
: Basic Info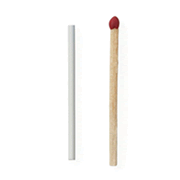 The implant (Nexplanon is the brand name; previously Implanon) is a teeny-tiny rod that's inserted under the skin of your upper arm. It's so small, in fact, most people can't see it once it's inserted—which means it can be your little secret if you're so inclined. The implant releases progestin, a hormone that keeps your ovaries from releasing eggs and thickens your cervical mucus—which helps block sperm from getting to the egg in the first place. It prevents pregnancy for up to four years. Not too shabby. The implant can be expensive and you often have to wait until they are stocked to get them inserted.
The Right Time health centers offer same-day insertion and free or low-cost implants to those who need them.
Details
Get it and forget it
If you're a busy person who doesn't want to worry about remembering birth control, the implant just may be for you. Once it's in, it lasts for up to four years.
Hands-free
No packages or prescriptions to pick up at the pharmacy, so there's nothing that could get lost or forgotten.
Total privacy
No one can tell when you have the implant. There's no tell-tale packaging, and nothing you need to do right before you have sex.
The pregnancy question
You should return to fertility (a fancy way of saying you should go back to being able to get pregnant) any time after the implant is removed. So don't take any chances. If you get it taken out, but you're not ready for a baby, protect yourself with another method right away.
Don't take our word for it. Check out the videos above to hear people talk about their experiences with the implant. And be sure to ask your health care provider which method is best for you.