Back To Methods
Fertility Awareness
: Basic Info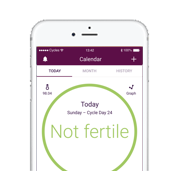 Fertility awareness-based methods—or natural family planning—are all about tracking your menstrual cycle to determine the days that you can get pregnant. The tricky part is actually knowing when those days are. To do that, you'll need to pay very close attention to your body and its patterns. Here we list all the different ways you can monitor your day-to-day fertility.
For those who may choose a different way to prevent pregnancy, please know that The Right Time health centers stock all methods of contraception and offer free or low-cost contraception to those who need it.  
Different Types
Standard Days (SDM)

If your menstrual cycle is between 26 and 32 days long, you can use this method to record your periods and determine when you can't get pregnant.

TwoDay (TDM)

This is another method where you observe cervical secretions to see when you're fertile.

Cervical Mucus

Your body secretes a distinct kind of goo when you're most fertile. This method is all about observing your cervical mucus.

Body Temp (BBT)

Use this method to chart your body temperature every single morning to determine whether or not you're ovulating.

Symptothermal

There are many signs that communicate when you're fertile and this method tracks several of them at once, including how open your cervix feels.

Lactational (LAM)

Breastfeeding naturally suppresses fertility. This method works if you've just had a baby and are breastfeeding in a very specific way.
Details
You want to get to know your body better
In addition to using Fertility Awareness as birth control, tracking your period can be a great way to get to know your body better, notice changes, and understand your cycle.
You wouldn't mind getting pregnant
Failure rates are kinda high if not used correctly—so if getting pregnant would be disastrous for you and you're not a total pro at fertility awareness, choose another method or use a backup like condoms while you're getting the hang of it.
Total self-discipline
Both you and your partner need to be completely down with the program. You also need to know your body really well.
You're okay with having a time-out from sex or using another method
If you're not totally cool with taking a break from sex or using another non-hormonal method during your fertile time every month, fertility awareness-based methods aren't for you.
You want a method with no side effects
Many people who use this method want something that doesn't affect their bodies.
No prescription necessary
If you don't want to use hormones, this is one option.
Don't take our word for it. Check out the videos above to hear people talk about their experiences with fertility awareness-based methods.