Back To Methods
The Shot (Depo-Provera)
: Basic Info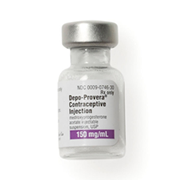 The shot is just what it sounds like—a shot that keeps you from getting pregnant. Once you get it, your birth control is covered for three full months—there's nothing else you have to do. Some people call the shot "Depo," short for Depo-Provera. The shot contains progestin, a hormone that prevents your ovaries from releasing eggs. It also thickens your cervical mucus, which helps block sperm from getting to the egg in the first place. Worth considering even if you're afraid of needles… Because what's a little prick compared to a pregnancy?
The Right Time health centers stock all methods of contraception and offer free or low-cost contraception to those who need it.  
Details
No (pregnancy) worries for three months
If you're the kind of person who would have trouble remembering to take a pill every day, the shot might be a good option. You only need to remember to do something once every three months. 
Total privacy
No one can tell when you're on Depo. There's no tell-tale packaging and nothing you need to do before you have sex.
Yes, there are needles involved
If you're really that scared of needles, then Depo is not for you. Just think, though. It's a single shot, and you're done for three months. Weigh the options.
It's a love/hate thing
Depo is one of those methods that some people LOVE and some people HATE. You can watch videos of folks who use it for more on that.
The pregnancy question
It is possible to get pregnant as soon as 12 weeks following the last injection, though for some users it can take around nine months for fertility to return. The bottom line? Don't take any chances. If you're not ready for a baby, protect yourself with another method.
Don't take our word for it. Check out the videos above to hear people talk about their experiences with Depo. And be sure to ask your health care provider which method is best for you.