Back To Methods
IUD (Intrauterine Device)
: Basic Info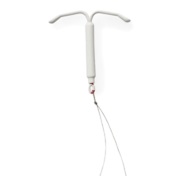 The IUD is a little, t-shaped piece of plastic that gets put in your uterus to mess with the way sperm can move and prevent them from fertilizing an egg. Sounds odd, but it works like a charm. IUDs offer years of protection—between three to 12, depending on the type you get. And if you want to get pregnant, you can have the IUD removed at any time. In the U.S., there are five IUDs: Mirena, Paragard, Skyla, LILETTA, and Kyleena. IUDs can be expensive and you often have to wait until they are stocked to get them inserted.
Remember, The Right Time health centers offer same-day insertion and free or low-cost IUDs to those who need them. 
Different Types
Hormonal

There are four hormonal IUDs available in the U.S.—Mirena, Skyla, LILETTA, and Kyleena. All are made of plastic and release a small amount of the synthetic hormone progestin, which thickens your cervical mucus to keep sperm from reaching the uterus. Depending what kind you get, hormonal IUDs can last between three and six years and may make your periods lighter.

Non-hormonal

There's only one IUD without hormones available in the U.S. It's called Paragard and it's made of plastic and a small amount of natural, safe copper. Paragard doesn't affect your periods and can work for up to 12 years.
Details
Get it and forget it
If you're a busy person who doesn't want to worry about remembering birth control, the IUD just may be for you. Once it's in, you're good to go for anywhere from three to 12 years.
Hands-free
No packages or prescriptions to pick up at the pharmacy, so there's nothing that could get lost or forgotten.
Total privacy
No one can tell when you have an IUD. (Some partners say they can feel the strings, but no one else will know it's there.) There's no tell-tale packaging, and nothing you need to do just before you have sex.
Safe and sound
Most experts agree, if you're healthy and have a uterus, you're probably a good candidate for the IUD. That's true even if you're young, haven't ever been pregnant, or haven't had kids yet. It's also a great method for new moms (even if you're breastfeeding).
The pregnancy question
You should return to fertility (a fancy way of saying you should go back to being able to get pregnant) very quickly after you have the IUD removed. Which is great if you want to have a baby. But if you're not ready to get pregnant as soon as you have an IUD taken out, be sure to protect yourself with an alternate method.
Don't take our word for it. Check out the videos above to hear people talk about their experiences with the IUD. And be sure to ask your health care provider which method is best for you.