What is Doctor-Patient Confidentiality?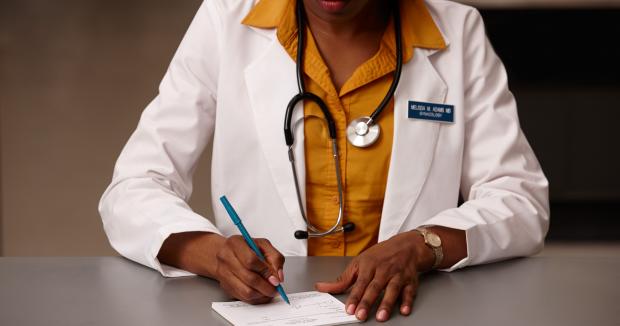 How much of what you say in the exam room is private?
The U.S. federal law that gives you control over your health information is called HIPAA. The law also protects your privacy and says your doctor can't share your health information with anyone without your permission. This element of the law is called "doctor patient-confidentiality."
Why should you care about "doctor-patient confidentiality?" Well, your business is your business. But knowing your conversations are confidential might make you more comfortable talking about sex and birth control with a provider at your nearest The Right Time health center. Confidential conversations can also help your provider recommend a method of contraception that matches your needs or lifestyle.
To get a better sense of "doctor-patient confidentiality," we got two medical experts, Robin Watkins, CNM, WHNP-BC and Director, Health Care at Power to Decide, and Dr. Pari Ghodsi, a board-certified and practicing OB hospitalist in Los Angeles, to answer some questions.
What is confidential between my provider and me?
Everything you tell your provider is private. "Conversations between you and your health care providers, including doctors, nurse practitioners, nurses, medical assistants, and front desk staff are private and confidential," says Watkins. "They can't talk to their family and friends (or strangers!) or post on social media about what you discussed during your visit or your test results."
When can a provider share my information without my permission?
In rare circumstances, a provider can reveal your health information to others, even if you have not said they could. Watkins says examples of this are, "if you are under 18 years old and are being abused or threatened, or if you are at risk of hurting yourself or someone else, or if talking to another provider might help in getting you the care you need, like referring you to a specialist." There are a few other reasons a provider would share your health information (like if a court order requires the release of your medical information to law enforcement), but they should let you know before they do so.
What if my health provider is a friend of the family?
If you live in a small town and your provider is someone you know personally, for example, they still must protect your privacy. If you don't feel comfortable seeing a provider that you know, Dr. Ghodsi recommends you try to find someone new to see. "But if you're okay with it," she says, "know that as a patient, it would be a HIPAA violation for the provider to tell anybody that you were or are their patient. They are not allowed to say that. If a provider did that, and it was a breach of the Privacy Act, they could lose their medical license."
Does "doctor patient confidentiality" apply to me if I am under 18?
This depends on the consent laws in your state. "In most places, you can get birth control, STI testing, mental health and substance abuse treatment without notifying anyone or getting permission," Watkins explains. In Missouri, the ability to consent to contraceptive services is reserved for those who have a health issue, or are married, pregnant, or considered mature. However, all minors can consent to STI services.
Updated February 2020