What Does "Double Up" Mean When it Comes to Birth Control?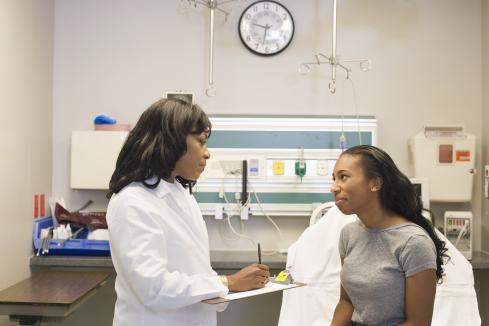 More methods mean added protection!
There are a lot of things I love about my IUD—not having a period, years of pregnancy prevention, and stress free sex are just a few. But the hormonal acne that I experienced over the years was an undesirable side effect I thought I just had to live with.  
I was pleasantly surprised when my dermatologist suggested I take a combined hormonal birth control pill to help manage my skin problems. I didn't expect to be doubling up on birth control (especially since the IUD is one of the most effective methods out there) but adding the pill to my routine has made my skin glow!  
And, it turns out, when you use multiple methods of birth control correctly, they further reduce the chances of pregnancy. If, for example, you are already a mom, and you really do not want to get pregnant again, you may consider using two methods instead of one to stay extra protected. This is known as the buddy system, or when a person is using a method that doesn't offer 100% pregnancy protection—such as the pill, patch, shot, or ring— and uses a backup method to reduce their chances of getting pregnant even more. 
Barrier methods, such as condoms and internal condoms, are great methods to use in addition to a primary method because they can be combined with any method to protect against sexually transmitted infections (STIs), including HIV (as mentioned previously, they can also make your chances of getting pregnant even smaller).  
And of course, birth control is for more than just pregnancy and STI prevention! Hormonal birth control can also help people: manage their period pain, reduce gender dysphoria, and even stabilize hormones to help with disorders like endometriosis and polycystic ovary syndrome (aka PCOS). On top of that, folks deserve to simply have worry-free sex and have access to methods that make them feel comfortable and safe. 
There are a variety of factors to consider when choosing a contraceptive method, and the providers at your nearest The Right Time health center are there to understand your needs, learn about your expectations for your birth control, and help you find a method that's right for you.