Everyone Wins with Patient-Centered Care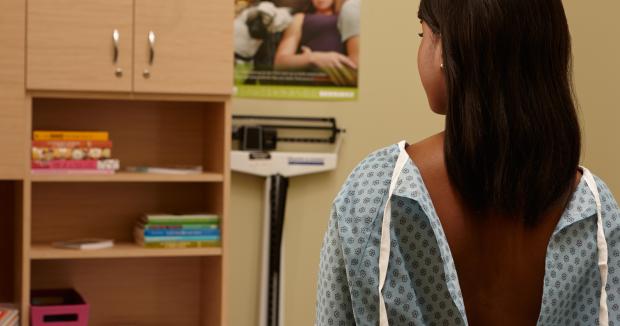 I was so surprised, all I could manage was, "Thank you." 
Two weeks after I gave birth to my third child, I sat on my OB-GYN's exam table waiting for her to breeze in. I shivered in the paper dressing gown from the blast of the noisy air conditioner next to the window. Sunlight streamed over several tidy stacks of pamphlets on the unit. The door opened, revealing Dr. Hendricks' smiling face. We said our hellos as she pulled the metal stirrups out of the table.
"How has your recovery been?" Dr. Hendricks asked, quickly checking the dressing on my C-Section incision.  
"The pain has gone down a lot, and the scar doesn't itch as much," I said. 
She nodded her approval. 
"Well, your incision site looks like it's healing just fine. You will be all clear to have sex in about four weeks. Do you have a birth control method you want to use?" 
I thought about my past struggles to find a hormonal birth control method that did not decrease my libido. I shook my head. Then I waited. About now was the time when my previous gynecologists would have fussed at me for not being on the pill.
Dr. Hendricks' tone remained neutral. "Do you want any more children?" she asked. That answer was an easy no for me. "Then let's talk about your options," she said.
With that simple word—options—my OB-GYN opened a door that had often been closed to me as a Black woman seeking reproductive health care. In the past, I had encountered providers who were pushy about IUDs, or who made light of my concerns about some side effects of birth control. They made me feel as if I did not know what was best for my body. But Dr. Hendricks listened without judgment as I told her about my experiences. 
That visit marked the first time I received patient-centered care from a provider when I needed to determine the right birth control method for me. My OB-GYN started by asking me what I wanted. Then we chatted about what kind of contraceptive would best fit my life and my body. She did not pressure me to use any particular method. 
Patient-centered care is important because providers can inadvertently push certain methods of birth control, such as long-acting reversible contraceptives, based on preconceived bias. When doctors act as partners, patients feel empowered to make their own decisions. Trust between providers and patients is an essential part of accessing the health care we all need to live our best lives. 
Dr. Hendricks also gave me something unexpected that day: time. "You don't have to decide right now," she said. She grabbed a few pamphlets from the stacks near the window. "Read these over, take some time to think about it. We can get you a prescription at your next follow-up visit or whenever you're ready." 
I was so surprised, all I could manage was, "Thank you." 
Even though I left her office that day without birth control, I felt confident that my doctor would support me in choosing the right method for me when it was time. Patient-centered care, like the kind given by providers at your nearest The Right Time health center, helped make my visit a positive experience. When patients feel supported and affirmed by providers, everyone wins. 
Updated July 2021