3 Tips for Becoming a Queer Ally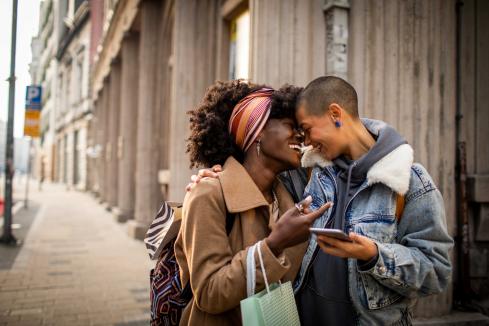 It's impossible to know what a person's gender identity or sexual orientation is just by looking at them, so don't make assumptions.
Being an ally of any kind can be difficult. How can we tell the people we care about that we're there for them without forcing them to confide in us, or messing up and saying the wrong thing? What are the best ways to be an ally?
You don't have to let the anxiety of screwing up or doing it wrong stop you from doing your best to be an ally. In honor of June being LGBTQ Pride Month, here are 3 tips on how to be the best ally you can to the LGBTQ people in your life.
Don't make assumptions.
It's impossible to know what a person's gender identity or sexual orientation is just by looking at them, so don't make assumptions. It's important for young queer people to feel comfortable as they learn about themselves. It's especially important to let people come out in their own way, and on their own terms. So just because you're pretty sure your child, nephew, friend, etc. is queer doesn't mean you can tell them that you "know."
Be open about what you don't know. 
No one has all the answers and queer people especially don't expect straight and cis allies to know everything about their community. There's no need to pretend that you understand everything that a queer friend or loved one is experiencing. If something comes up that you don't understand, it's ok to casually pause and ask them to explain something they've said. 
On the flip side, don't assume that the gender and/or sexual minority person in your life is your personal Google. Take a stab at learning on your own before you go to a queer person with all of your questions.
Identity can shift. 
In the same way that a straight person's birth control needs can change, folks' gender and sexuality identity can shift over time. It's normal for people to question how they identify, and it may take some time to find an identity that fits.
If a queer person feels comfortable enough to tell you that they're bi, gay, genderfluid, trans, etc. even though they used to identify as something else, it's not an opportunity for you to ask if they're 'sure' or question how they know. And if they come to you later to redefine their gender or sexual identity, accept that knowledge too.
If it comes up that your friend is looking for ways that birth control can support their gender identity or sexuality, you can let them know that they can get free or low-cost access to all methods of birth control at their nearest The Right Time health center. You can also share that the providers are trustworthy, respectful, and non-judgmental, and that anything they tell a provider is confidential.